How it Works
Everything you need to know about the Soul Theme Process.
HOW IT WORKS
Your dream website
in 4 easy steps
CHOOSE YOUR THEME

You'll get a custom look without the price tag. All our designs are personally crafted by us (professionally trained designers).

UPLOAD YOUR BRAND ASSETS

In this step you will upload your photos, videos, and use our custom templates to fill in your brand copy.

WE STYLE YOUR WEBSITE

We develop your brand visuals. This includes wordmark logo, typeface, color, and overall brand identity and vibe.

GO LIVE

A brand new website will be installed onto your hosting and domain, and then you're good to go.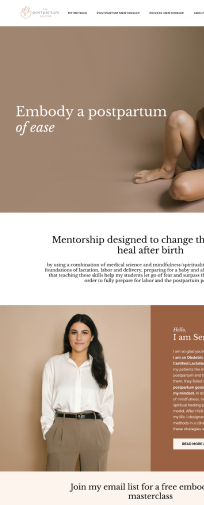 Finally, a brag worthy website that doesn't break the bank.
If you're trying to keep your costs low and your vibes high, welcome to Soul Themes!
As an acclaimed website designer, I'm always booked out on a waiting list, but I saw a need for unique, soulful websites at affordable rates.
That's how Soul Themes was born.
What you need to
get started:
TECH

You'll need a Wordpress account and hosting for your website.

BRANDING

We will be creating your branding so you don't need to worry about this, we got you!

PHOTOS

You will upload your own photos to our google drive folder so we can implement them in the theme.

COPY

We will provide you with guided templates to fill out your own copy within your chosen theme.
Reminder: Please keep in mind that this is a template and there are certain functionalities that you are not be able to customize. These include: Removing or adding buttons, adding new designed sections, customizing the design of various sections, and device specific edits.
Soul Themes' has been expertly designed using tested & proven layouts for high conversion websites.
The layout we created is there for a reason!
If for some reason you think your needs would require custom edits to this layout, please reach out to us for a custom website at: team@rachelpesso.com
FREQUENTLY ASKED QUESTIONS
Once you sign a contract and make your initial deposit, you will be responsible for providing us with your domain and hosting, images you want used on the site, and the copy to be used on the pages.
We will provide you with a  list of where to get your domain and hosting from and the steps to get it done. Once purchased you will provide us with the login information and anything else the developer needs to get started. As for the copy you will provide that via a google or word doc for us to place on the site.
We want to make sure that you are able to make minor changes or updates to your site on your own after our work is completed, so you will have a video  tutorial from the developer instructing you how to make changes in the future.
Yes! Rachel will be overseeing the entire project and will be the one you speak to on all 3 Review Calls. She will offer support and answer any questions you may have during those calls.
Currently all the sites are built in WordPress but we do have one theme now that is built using Shopify. If you are interested in other platforms, reach out to team@rachelpesso.com and we may be able to accommodate!
Yes, but we do include a logo wordmark with your package but if you already have a logo that you love we are happy to use that on your new site!
Yep! 6 pages are included in the package but we can add in other pages for an additional cost. During your FREE consultation we can determine what 6 pages you have an if there are any additional that need to be added to the package.
Yes! You will need to purchase your domain name and hosting if you don't already have that.
Although we can complete the process in two weeks most clients are taking about 1 month to go through the process and provide us with their photos, copy and any additional assets needed to support their website.
No, but we do recommended getting a photoshoot as it makes a huge different on your website. If that is not in your budget you can use stock photography but we will need you to provide us with some photos to replace what's in the current theme.
Check out unsplash.com for some high quality stock photography options.
Yes! Very much so. We have also built these themes with specific user experience.
We strive to make sure that you are satisfied and thrilled with the look of your new website and branding and that is why instead of just selling the templates without assistance this program was created. Due to the quick turnaround and nature of this work no refunds will be given.
At any time when it becomes apparent that you are not equally as invested in the success of the project, we reserve the right to terminate at any point. This includes not making decisions, delayed approvals, consistently being disrespectful to those assigned to the project and/or compromising the integrity of the project. Your contract will be void and no refund will be issued.